Frequently asked questions
My plug-ins won't show up in my DAW
---
Make sure the correct Plugin Formats required by your DAW are installed to the correct locations. In many DAWs a Plugin Path can be set, so make sure that the correct location is scanned. If the plugin still does not load, redownload the file and try a reinstall.
---
My download attempts ran out, what do I do?
---
Email kiiveaudio@gmail.com and explain your situation, include your order number. Someone from support will reset your order and send you a download link.
---
Do you offer academic discounts?
---
Unfortunately at this time, we do not offer any student or academic discounts.
---
Where are my past orders?
---
You can view all past orders under the "My Account" tab.
---
I want to try out a plugin, where are the demos?
---
You can download our demo versions through the "Try It" Button on each product page.
---
I would like to sell and transfer my plug-in license to another user, is this possible?
---
No, unfortunately re-selling of Plugin Licenses is currently not supported by Kiive Audio. But feel free to check back in periodically as this is something we'll be implement in the future.
---
Where Can I Find My Serial Code?
---
License codes can be found in the confirmation email as well as in your previous orders in the "My Account" tab
---
There is an update for my order, how do I download it?
---
We will email you when we update a product. You can download any updates for products by loging into the my account section on our site.
---
I Can't Open The Mac Installer
---
All of our macOS installer packages are certified and signed with an apple developer ID but some version of OS can still cause this pop up message. If this occurs simply close the instaler and then right click on it and check open. This will bypass apple's error message an allow you to install your plugin.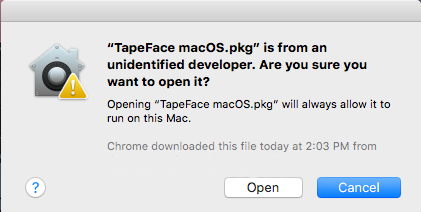 ---
How do I log inot my account
---
You can log into your account my clicking on the "my account" section on our site and entering your emial address. You will then be sent an emial with a log in link access all of your producs.
---
---